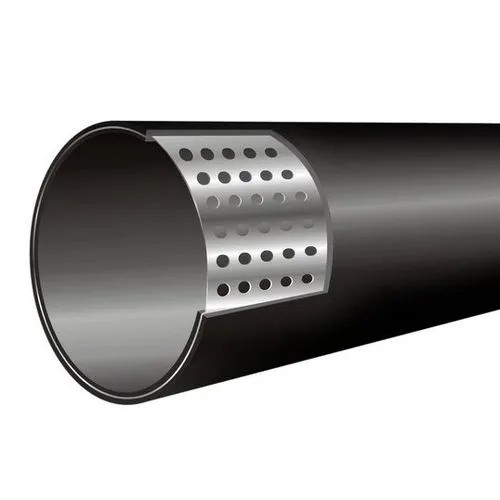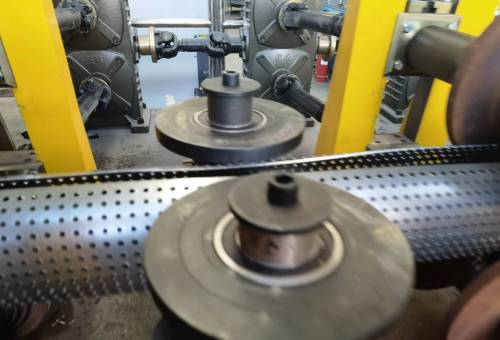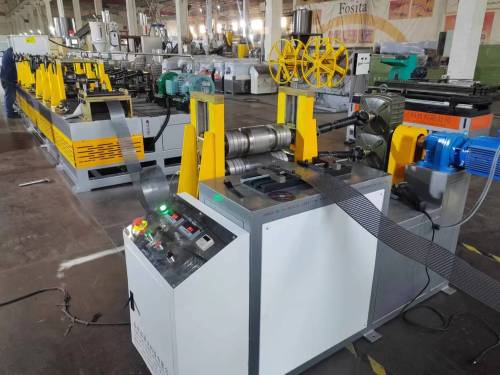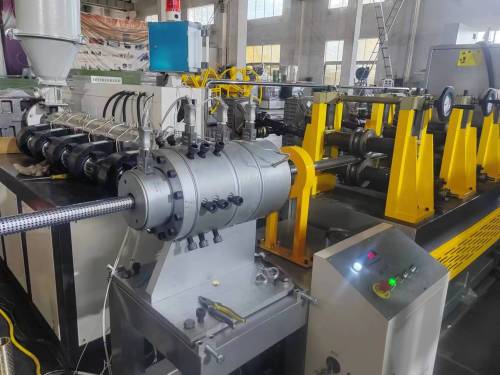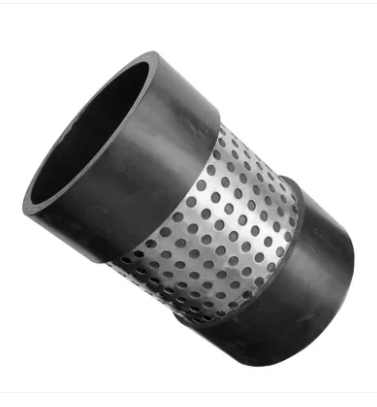 Perforated steel belt polyethylene composite pipe production line
Description
polyethylene composite pipe production line
Perforated steel composite plastic pipe production line is hot selling nowadays.
Pipe is reinforced by a steel welding tube with perforation on its body. The inner and outer plastic layers are locked through those holes.
PSP pipe is as rigid as steel pipe and also has good corrosive proof ability like plastic pipe. It can by applied in many industry fieldsworking in very difficult conditions.
The perforated steel belt plastic composite pipe, referred to as the perforated steel-plastic pipe (PSPE), is a porous thin-walled steel pipe formed by argon arc butt welding as a reinforcement, and the outer and inner layers arenew type of composite pipe made of double-sided composite thermoplastics.
Since the reinforcement is completely encased in plastic through the holes, this composite tube overcomes the respective shortcomings of steel pipes and plastic pipes, and maintains therespective advantages of steel pipes and plastic pipes.
It is widely used in civil buildings, urban water supply, petrochemical,It is an ideal application pipe for electric power, pharmaceutical, metallurgy and other industries, and it is a high-tech new composite pipe recognized at home and abroad.
Model

Pipe Diameter(mm)

Machine Speed(m/h)

Capacity(km/y)

Power(KW)
We are Suzhou Fosita Science and Technology Company Limited.Fosita is located in Zhangjiagang city,Jiangsu Province,China,which is near Shanghai city by 1 hour by high speed train to come. Fosita is the factory of plastic pipe production line,plastic profile production line,plastic recycling machine,plastic granulating machine with more than 20 years exporting experiences. Fosita is specialized in the manufacturing,processing in assembling of plastic extruder technology with professional engineer and sales team.Delicate to strict quality control and thoughtful customer service,our experienced staff members are always available to discuss your requirements and ensure full customer satisfaction.
After-sales service: Our company will arrange specialized engineers to install and test machines in customer's factory; Meanwhile engineer will give free training lessons to labors in customer's factory.
What's The Main Business In Your Company?
The main products are PE/PPR/PVC pipe production lines,WPC/PVC profile produciton lines,PET bottles and PP/PE films recycling line,Plastic wastes pelletizing lines, and all kinds of otherauxiliary equipments,such as Mixer,Crusher,Pulverizer,Shredder,Water Chiller and so on.
Can you tell me your payment way and delivery and guarantee time?
1. Delivery Time: 30 working days after receiving your down payment.
2. Payment Condition: 30% by T/T for deposit and 70% by T/T before delivery time. 3.Guarantee: 12 months for the machine (the electric parts for 6 months).
During this guarantee period, FOSITA will provide spare parts without any charge in case of quality discrepancy caused by us. If the malfunctions are caused by your incorrect operations, FOSITA will provide the buyer spare parts at cost price.How about your arrangement for inspection,installation and testing work?
1. After all machines are delivered to customer's factory;
2. FOSITA will prepare for visa application for their engineers, who are responsible for guide of machine installation and testing at the Buyer's factory. 3.The Buyer will buy the round-trip air ticket for Engineer if visa application is approved. The buyer is also responsible to bear expenses generated, e.g. visa formalities, meals, accommodation and allowance for each engineer. 4.Engineer will give free training lessons to labors in buyer's factory.
Where Is Your Company And Factory Address?
We are in Yongli industrial zone,Leyu town,Zhangjiagang city,Jiangsu Province,and it's near to Shanghai,only 1 hour driven by highspeed trai